EAR REFLEXOLOGY COURSE
ANXIETY AND DEPRESSION 
7 CE Hours for ARCB & NCBTMB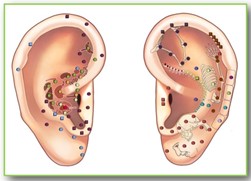 Anxiety and depression can be found in every country and in every age group. The number of people affected and the suicide rate, especially among young people and young adults, has risen dramatically in some countries in recent years.
Ear Reflexology is originally based on the ancient Chinese practice of acupuncture with only very few ear points known that were not organized somatotopically but in a non-specific pattern. The first somatotopic ear map was developed in 1957 by the French physician Paul Nogier and is based upon the concept of an inverted fetus orientation. Today we are working with a combination of French and Chinese Reflex Maps.
WHAT YOU WILL LEARN
In this hands-on course you will learn specific Ear Reflexology Protocols to help people who suffer from anxiety and depression. You will get a deep insight into the Master Points, Functional Points, and Somatotopic Points that are used in these protocols. At the end of this course you will know their functions and you will be able to find them on the ear and use them safely.  
| | |
| --- | --- |
| CLASS DATES & LOCATION: | TBD |