BEGINNING EAR REFLEXOLOGY COURSE 
In Ventura, California
6 CE Hours for ARCB & NCBTMB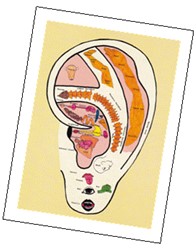 Ear Reflexology is originally based on the ancient Chinese practice of acupuncture with only very few ear points known that were not organized somatotopically but in a non-specific pattern. The first somatotopic ear map was developed in 1957 by the French physician Paul Nogier and is based upon the concept of an inverted fetus orientation. Today we are working with a combination of French and Chinese Reflex Maps. The ears are an amazing reflex area for rapid and profound relaxation. They are also remarkable for pain relief in the jaw, neck, all ten zones of the shoulders, all ten zones of the lower back, lumbar spine, sacrum, coccyx, hip, and sciatic. You can integrate Ear Reflexology easily into your Foot and Hand Reflexology session and combine with other modalities.
WHAT YOU WILL LEARN
Learn how to get powerful results with Ear Reflexology. At the end of this class, you will be confident to perform a one-hour Ear Reflexology Routine, working with French & Chinese Reflex Maps, Master Points and Functional Points and know the priority reflex locations on the ears. Discover pulses, electrical currents and temperatures, and what changes in these could be telling you about the person you are helping. Explore several ways to incorporate Ear Reflexology with Foot and Hand Reflexology and other modalities.
CLASS OVERVIEW
In the morning we will be going over a brief introduction of Ear Reflexology including the history, benefits, and precautions. You will discover the anatomical regions of the outer ear, the ear reflex map, and how to detect possible imbalancesPrimary Master Points and several Functional Points. The remainder of the day will be practical Ear Reflexology. After a demonstration on how to work on the ears, you will be guided through performing ear reflexology on your fellow students.
CLASS DATES:

March 24, 2024

Saturday 9am-4pm
| | |
| --- | --- |
| CLASS LOCATION: | 746 E. Main St. Ventura, CA 93001 |
REGISTRATION:

– Registration coming soon –

Kali Institute for Massage &
Somatic Therapies
805-648-6204
admin@kaliinstitute.com