Stefanie Sabounchian, Certified Reflexologist and Instructor
With over 25 years of experience in Reflexology and a background of medical training, Stefanie Sabounchian is committed to assisting her clients to overcome health challenges and restore balance and health.  Stefanie also teaches courses and webinars on Reflexology.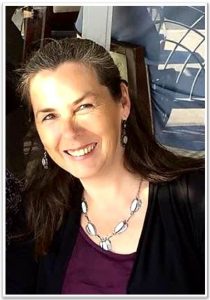 Stefanie Sabounchian was originally trained in Foot Reflexology in 1996 in Germany, where she was born and raised. After coming to the United States in 2000, Stefanie became certified in Integrated Foot Hand Ear Reflexology at the American Academy of Reflexology in Los Angeles. In addition, she is nationally certified with the American Reflexology Certification Board (ARCB). After studying the advanced skills in the principles and application of Auriculotherapy with Terry Oleson, Ph.D., in Los Angeles, Stefanie was certified by the Auriculotherapy Certification Institute in 2013.
Stefanie is a National Certified Reflexology Educator with NCRE, teaching Foot Hand Ear Reflexology throughout the US as well as internationally. She has been a certified Reflexologist & Auriculotherapist with a private practice in Southern California for over 20 years. Stefanie is past president of the Reflexology Association of California. She is vice president of the World Reflexology Foundation and serves on the board of directors of the Reflexology Association of America.
Her professionalism and passion for Reflexology, and her genuine sincerity has led her to become the experienced Reflexology and Auriculotherapy practitioner she is today, and endeared her to all of her students.
Stefanie is a published author of the book series of: "Press Here! Reflexology for Beginners:
– Foot Reflexology: A Practice for Promoting Health
– Hand Reflexology: A Practice for Promoting Self-Care."
Resources
The Reflexology Association of California (RAC) is a non-profit organization created to promote and support the ethical and legal practice of reflexology through education and information.
The Reflexology Association of America (RAA) is a nonprofit organization that promotes the scientific and professional advancement of reflexology. The organization's mission is to elevate and standardize the quality of reflexology services and education available to the public.
The American Reflexology Certification Board (ARCB) is an independent testing agency for the field of reflexology. A second objective is to act as a national referral board for certified practitioners.
The American Academy of Reflexology: Pioneering Foot Hand Ear Reflexology for over 35 Years. Nationally Accredited, Scientifically Validated.
The International Council of Reflexologists (ICR) is providing a forum for the exchange of ideas and information about Reflexology; convening biennial international conferences; and promoting World Reflexology Week.
The World Reflexology Foundation (WRF), a 501(c)(3) non-profit organization, is a group of highly trained Reflexology leaders, educators and practitioners who have been inspired by our experiences with Reflexology. Our mission is to help empower all people around the world with the healthful benefits of Reflexology. We do this by teaching Self-Help and Family-Help Reflexology on themselves, their families, communities, towns, and villages.
Reflexology Research: With over 380 Reflexology Research Abstracts, this the most complete collection of Reflexology Research Studies from around the world.
Press Here! Reflexology for Beginners: A practical illustrated guide to foot reflexology introduces a new and simple way of learning the art of reflexology for beginners and home reflexologists.