ADVANCED EAR REFLEXOLOGY COURSE
14 CE Hours for ARCB & NCBTMB
In addition to imaging the entire body, ear reflexology has many other ear points for us to work with. In this intensive seminar you will learn what influence the combined application of Master Points and Functional Points has on the body. This deep insight into Ear Reflexology will enable you to integrate these targeted applications into your reflexology practice.
DURING THIS POWER PACKED HANDS-ON CLASS
YOU WILL LEARN: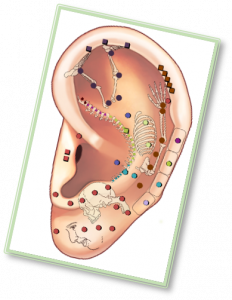 10 specifically powerful "Master Points" that have a broad impact on the body, such as: Master Relaxation Point, Pain Control Points, Master Cerebral and Master Endocrine Point.
15 of the most used "Functional Points", which can have an impact on special functions of the body, such as points for: Allergies, Hypertension, Asthma, Constipation, Skin Disorders, Sleep Disorders and more.
You will also learn protocols – combining Somatotopic Ear Map, Master Points, & Functional Points – for such health challenges as: Stress Related Disorders, Weight Control / Eating Disorders, Chronic Pain, Anxiety, Depression, and Premenstrual  Syndrome/Menopause.
PREREQUISITE:
Beginning Ear Reflexology from a hands-on school
| | |
| --- | --- |
| CLASS DATES & LOCATION: | TBD |