EAR REFLEXOLOGY
TWO-DAY ONLINE COURSE
6 CE Hours for ARCB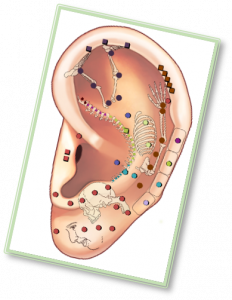 In this online course you will receive an introduction to Ear Reflexology and how you can use it easily and effectively on yourself and on your clients.
DURING THIS ONLINE CLASS
YOU WILL LEARN:
Three individual Ear Reflexology Maps will be introduced – the map of Musculoskeletal Ear Points, the map of Organs & Neuroendocrine Ear Points and the map of the Master Points.
You will learn 5 Primary Master Points, which have a great influence on the entire body, and Functional Points, which have an influence on certain body functions.
In combination with "Master Points" and "Functional Points" you will learn effective Ear Protocols for Stress & Tension, Neck & Shoulder Pain, Lower Back Pain & Sciatica, and Headaches & TMJ.
On the first day you will learn to apply these protocols on your own ears. On the second day, you will be guided through these protocols while working on a friend or family member.
This course is recommended for beginner reflexologists who want to include some ear points into their practice, as well as for seasoned reflexologists to gain deeper insights of ear reflexology.
CLASS DATES:

January 26 & February 2, 2023

Thursdays 5pm-8pm Pacific Time
| | |
| --- | --- |
| LOCATION: | Online Via Zoom |
For those who'd like to review this class at a reduced fee, please contact Stefanie at ReflexologyByStefanie@gmail.com